Yamanashi prefecture is a great place to visit for foreigners. It has many recommended places to visit, such as Mount Fuji, the Five Lakes region, and the hot springs.
Must-Visit Tourist Destinations in Yamanashi
Yamanashi prefecture is a popular destination for foreign tourists, offering many picturesque sites to explore. From the breathtaking views of Mount Fuji to the Fuji Five Lakes, Yamanashi has something to offer everyone.
Looking to get off the beaten path in Japan? Yamanashi Prefecture is a great place to start. Check out our recommendations for the best places to visit in this beautiful region.
In this section, we'll discuss the most popular tourist destinations in Yamanashi prefecture and why it's worth a visit.
Visit Mount Fuji
Mount Fuji is a must-visit tourist destination in Yamanashi prefecture, Japan. The highest mountain in Japan, Mount Fuji is renowned for its stunning beauty and cultural significance.
Here are some other must-visit tourist destinations in Yamanashi prefecture:
Kawaguchiko: A resort town located near Mount Fuji, this destination offers panoramic views of the mountain and the surrounding landscape, as well as hot springs and cultural activities.
Oshino Hakkai: This group of eight natural springs offers crystal clear water that has been filtered through Mount Fuji's volcanic rock for over 80 years, making it a great destination for nature enthusiasts.
Hottarakashi Onsen: A hot spring resort located in the mountains, this destination offers stunning views of the night sky and the surrounding mountains, as well as relaxing hot spring baths.
Chureito Pagoda: Located in the Arakurayama Sengen Park, this pagoda offers breathtaking views of Mount Fuji and the surrounding cherry blossom trees during springtime.
Yamanashi prefecture is a recommended place to visit for foreigners who want to experience Japan's natural beauty and cultural heritage.
Explore Lake Kawaguchi
Lake Kawaguchi is a beautiful destination and a must-visit attraction in Yamanashi Prefecture, Japan. Surrounded by the majestic Mount Fuji, this popular lake offers a range of scenic views and recreational activities.
Some of the top attractions and activities to explore around Lake Kawaguchi are:
1. Kachi Kachi Ropeway: A cable car ride that provides stunning views of Mount Fuji, Lake Kawaguchi, and the surrounding forests.
2. Lake Kawaguchi Oishi Park: A public park that is famous for its seasonal flower displays, including tulips, roses, and cherry blossoms.
3. Saiko Iyashi no Sato Nenba: A traditional Japanese village that showcases the local culture and history of the region.
4. Kawaguchiko Music Forest Museum: A museum dedicated to music boxes and other mechanical instruments.
5. Water activities: Visitors can enjoy a variety of water sports and activities, including boating, fishing, and stand-up paddleboarding.
Each location offers something new and beautiful for tourists to experience and expect nothing short of a good time in Yamanashi.
Discover the Chureito Pagoda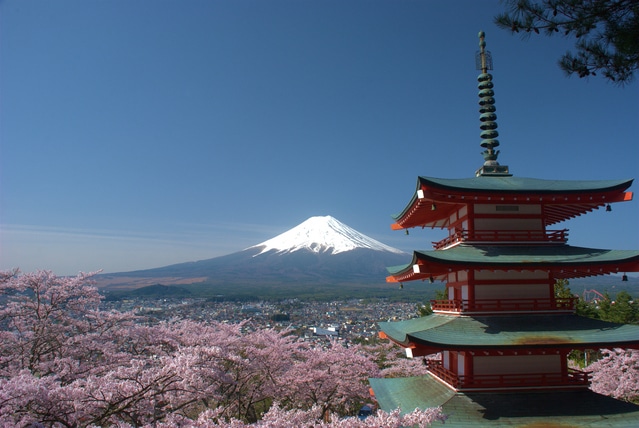 The Chureito Pagoda is a must-visit tourist destination in Yamanashi prefecture and one of the most iconic landmarks in Japan.
Located on a mountainside overlooking the Fujiyoshida City, the Chureito Pagoda is a five-story pagoda that offers panoramic views of Mount Fuji and the surrounding landscape from its observation deck.
To reach the pagoda, visitors need to climb up the steep stairs that lead to it, which can take up to 20 minutes. However, the stunning views from the top make the climb worthwhile.
Pro Tip: The best time of year to visit the Chureito Pagoda is during the cherry blossom season, which usually takes place in late March and early April.
Exciting Outdoor Activities to Try in Yamanashi
Yamanashi prefecture offers numerous exciting outdoor activities for visitors of all ages. From cycling to camping and hiking, you'll find a variety of activities to suit your interests. You can head to the mountains for breathtaking views or spend a day at the lake to relax and appreciate nature.
Here are some great outdoor activities to try during your visit to Yamanashi prefecture.
Go hiking in the Shosenkyo Gorge
Shosenkyo Gorge is a must-visit destination for hiking enthusiasts and nature lovers located in Yamanashi prefecture, Japan.
The gorge is known for its scenic views, waterfalls, and rock formations making it a perfect spot for nature walks and hikes. There are three main hiking trails in the gorge that range in difficulty and length, making it accessible for all levels of fitness. The shortest trail takes about 30 minutes to complete while the longest one takes up to 3 hours. Hikers can enjoy the stunning views of the Fuji River and the surrounding mountains while taking a refreshing break at the many rest stops along the way.
Pro tip: A visit to Shosenkyo Gorge during autumn when the leaves change color is a breathtaking experience that you don't want to miss while in Yamanashi.
Experience the Fuji-Q Highland amusement park
Fuji-Q Highland amusement park in Yamanashi, Japan is a must-visit destination for thrill-seekers and anyone seeking a fun-filled day outdoors. With over 40 attractions, including roller coasters, water rides, haunted houses, and more, Fuji-Q Highland has something for everyone. Some of the most popular rides include the Takabisha, the world's steepest roller coaster, and the Fujiyama, one of the world's tallest roller coasters. In addition to rides, the park also features a variety of food and souvenir shops.
For visitors looking for even more excitement, Yamanashi has much to offer. From hiking in the beautiful Chichibu-Tama-Kai National Park to climbing Mount Fuji, visitors can experience the natural beauty of Japan. Yamanashi's local cuisine, including Hoto noodles and Yamanashi wine, are also not to be missed.
Pro-tip: Visitors should arrive early to beat the crowds and plan to spend at least one full day at Fuji-Q Highland to experience all the park has to offer.
Try grape picking in Katsunuma
Katsunuma in Japan's Yamanashi prefecture is a premier grape-growing region and a popular destination for grape picking. Known for its juicy, plump grapes and picturesque scenery, Katsunuma offers a unique outdoor activity that is perfect for tourists and locals alike.
Grape picking is a fun and exciting activity that allows visitors to experience the art of grape cultivation firsthand. Katsunuma is home to several vineyards and wineries, each offering a different grape-picking experience.
Depending on the vineyard you visit, you can enjoy not only grape picking but also wine tasting and other activities such as cycling tours, restaurants and unique souvenirs made from grapes.
Plan your visit to Katsunuma during harvest season, which typically runs from late August to early October to get the best out of your experience.
Historical and Cultural Finds in Yamanashi
If you're looking for a place to visit to learn more about Japan's rich cultural and historical heritage, you should take a trip to the Yamanashi prefecture. Located just west of Tokyo, you can find some of the most iconic sites from Japan's past.
From temples to shrines, this prefecture is filled with sites that will allow you to explore the depths of Japan's cultural and historical past.
Learn about the history of Yamanashi at the Kofu Castle
Kofu Castle is a historical landmark located in the city of Kofu in the Yamanashi Prefecture of Japan. It was built during the late 16th century and served as the residence of the powerful warlord Takeda Shingen.
The castle is significant not only in Japanese history, but also in the history of the Yamanashi Prefecture. Nowadays, the castle serves as a museum where visitors can learn about the rich history and culture of the area.
The exhibits at the museum include artifacts and relics from the Takeda period, including samurai swords, armor, and artwork. Visitors can also enjoy the panoramic views of the Kofu Valley from the top of the castle tower.
A visit to Kofu Castle is a must-see for anyone interested in Japanese history and culture.
Visit the Kai-Zenko-ji Temple
If you're looking for a historically and culturally significant destination in Yamanashi, then the Kai-Zenko-ji Temple is a must-visit. The temple is one of the oldest and most respected holy sites in Japan and attracts tourists and pilgrims from all over the world.
Here's what you can expect during your visit:
The temple complex features multiple buildings, including its grand hall, main gates, and pagoda. Visitors can explore the temple grounds or take guided tours of the main hall and pagoda.
The temple houses many significant artifacts and cultural treasures, including ancient sculptures and paintings, traditional Japanese swords, and artifacts of the Edo period.
Visitors can also participate in traditional religious practices, such as praying, lighting incense sticks, and receiving a blessing from the resident Buddhist monk.
Don't forget to take some time to relax and enjoy the breathtaking scenery surrounding the temple, including a beautiful Japanese garden and a serene pond.
Pro tip: Wear comfortable shoes and clothing as visitors are required to take their shoes off when exploring the temple's interior.
Experience Japan's traditional way of life at the Daizokyo-ji Temple
Daizokyo-ji Temple is a perfect place to experience Japan's traditional way of life and immerse yourself in a cultural retreat. Located in the serene and peaceful area of Yamanashi prefecture, this historical temple offers visitors a unique and authentic perspective of Japan's rich culture and heritage.
The temple's tranquil atmosphere, stunning architecture, and beautiful garden provide an ideal backdrop for meditation and soul-searching. Visitors can explore the temple's various halls, shrines, and pagodas to learn about Japan's Buddhist history and teachings. A visit to the temple's tea room is a must-do, where visitors can take part in a traditional tea ceremony and gain insight into Japanese customs and traditions.
Whether you're a history or culture buff, or just seeking a peaceful and serene retreat, Daizokyo-ji Temple is a recommended attraction worth experiencing in Yamanashi prefecture.
Pro tip: Make sure to wear comfortable shoes as the temple grounds are extensive and involve a lot of walking.
Unique Local Experiences in Yamanashi
Yamanashi prefecture is located on the main island of Honshu and is renowned for its unique local experiences. From tasty food specialties and famous hot springs, to breathtaking natural sites, Yamanashi has it all.
In this article, we'll compare the unique experiences that Yamanashi has to offer versus other prefectures in Japan, so you can decide where to go when planning your next vacation in Japan.
Relax in an outdoor onsen at Yumura Hot Springs
At Yumura Hot Springs, one can enjoy a unique and relaxing experience by soaking in an outdoor onsen. The onsen's mineral-rich water is said to have healing properties and can relieve stress and muscle tension.
Yamanashi prefecture offers many unique and must-visit places for foreigners. Here are a few:
1. Mount Fuji: A UNESCO World Heritage Site, Mount Fuji offers spectacular views and is the highest peak in Japan.
2. Shosenkyo Gorge: Known for its scenic beauty, the gorge offers hiking trails, waterfalls, and stunning rock formations.
3. Katsunuma: A wine-producing area with over 30 wineries, Katsunuma offers wine-tasting tours and other culinary experiences.
4. Oshino Hakkai: A group of eight ponds fed by Mount Fuji's meltwater offers breathtaking views and is famous for its pure, clear water.
5. Lake Kawaguchi: A scenic lake with various outdoor activities and picturesque views of Mount Fuji.
Yamanashi prefecture offers a perfect blend of nature, culture, and unique experiences that are worth experiencing by foreigners visiting Japan.
Attend a Tea Ceremony, The Art of Japanese tea
Attending a tea ceremony is a must-do experience for anyone interested in Japanese culture or the art of tea. In Yamanashi prefecture, visitors have the opportunity to participate in traditional tea ceremonies and learn about the history, customs, and etiquette surrounding this ancient practice.
Some recommend places to visit for foreigners to attend a tea ceremony in Yamanashi include:
Ochise, located in the beautiful Fujikawaguchiko area.
Okitsu Shirakawa Bato-En, a tranquil spot nestled in the mountains of Kofu.
Maeda-en, a historic tea house and garden in the heart of Yamanashi.
Each of these locations provides a unique and authentic experience, from the formal and traditional ceremony at Okitsu Shirakawa Bato-En to the more relaxed and interactive atmosphere at Ochise.
Taste Yamanashi's signature cuisine
Yamanashi's signature cuisine is a must-try for anyone visiting this picturesque prefecture in Japan.
Some of the signature dishes to try include:
Houtou: A hearty soup made with udon noodles, chunks of vegetables, and miso broth. This dish is perfect for cold days and pairs well with local sake.
Fujizakura Pork: A type of meat produced in Yamanashi that is known for its tender texture and rich flavor. It's best enjoyed grilled or pan-fried with a side of wasabi and soy sauce.
Koshu Wine: Yamanashi produces some of the best wines in Japan, with Koshu wine being the most famous. This dry white wine has a refreshing taste and pairs well with seafood and sushi.
Yamanashi Peach: Yamanashi is famous for its juicy and sweet peaches, which are in season from June to August. These peaches make for a healthy and delicious snack or dessert.
As you taste Yamanashi's signature cuisine, you can also experience its unique local culture, traditions, and natural beauty that makes it a must-visit place for foreigners.
Transportation in and around Yamanashi
Yamanashi prefecture is well connected with rest of Japan and many beautiful places can be accessed from Yamanashi. There are several options for transportation in and around the prefecture, most popular being trains and buses. The reliable train service makes it easy for tourists to access various attractions in the prefecture.
In this section, we will look at the various transportation means available in Yamanashi prefecture.
Travel by Shinkansen (bullet train)
Traveling by Shinkansen, also known as the bullet train, is the fastest and most efficient way to explore Yamanashi prefecture in Japan. These high-speed trains can travel up to 300 km/h, cutting travel time between cities significantly.
Here are some recommended places to visit in Yamanashi prefecture:
1. Mount Fuji: The iconic mountain can be viewed from various scenic spots in Yamanashi.
2. Fuji-Hakone-Izu National Park: Explore the park's stunning natural sights like hot springs, hiking trails, and waterfalls.
3. Oshino Hakkai: A cluster of natural springs with crystal-clear waters and traditional architecture.
4. Shosenkyo Gorge: A narrow gorge with towering cliffs and a beautiful waterfall.
5. Kofu City: The prefectural capital with a rich history dating back to the Sengoku period.
Whether you're exploring the historic city of Kofu or admiring the natural beauty of Mount Fuji, the Shinkansen is the most convenient transport option to travel around Yamanashi prefecture.
Pro Tip: Purchase a Japan Rail Pass for unlimited travel on the Shinkansen and other Japan Railways trains.
Travel by Local Bus
Traveling by local bus is the best way to explore Yamanashi prefecture, especially for foreigners looking to immerse themselves in the local culture and experience the scenic beauty of Japan.
By taking local buses, travelers can enjoy the flexibility of creating their own itinerary and discovering hidden gems that are not on the typical tourist circuit. Additionally, local buses are affordable and operate frequently, making them ideal for budget-conscious travelers.
Some recommended places to visit in Yamanashi include:
Mount Fuji: Take a bus from Kawaguchiko Station to the Fuji Subaru Line 5th Station.
Fuji-Q Highland: Enjoy a thrill-packed day at this amusement park reachable by taking the Fujikyuko Line from Otsuki Station.
Oshino Hakkai: A nature-focused day trip that entails taking the Fujikyuko Line from Kawaguchiko Station to Oshino Hakkai. This picturesque village is famous for its crystal-clear ponds and hot springs.
Rent your own car for convenience.
When exploring Yamanashi prefecture, renting your own car can provide the convenience and freedom that public transportation may not offer.
Here are some recommended places to visit in Yamanashi:
Mount Fuji: Located on the border between Yamanashi and Shizuoka prefectures, Mount Fuji is a UNESCO World Heritage Site and Japan's highest mountain.
Fuji Five Lakes: A group of five scenic lakes near Mount Fuji, famous for their stunning views of the mountain and surrounding nature.
Yamanashi Fruit Orchards: Yamanashi is known as the fruit kingdom of Japan, with a wide variety of fruits grown in the region available for visitors to pick and taste.
Kofu: The capital city of Yamanashi prefecture offers historical and cultural attractions, including Kofu Castle and a variety of museums.
With your rental car, you can easily visit these popular tourist spots and explore Yamanashi at your own pace.